R.I.P
Utah's favorite party run!  In addition to the festivities and fun you are sure to experience at this years best Haunted race, Runtastic Events is honored to have the opportunity to partner with the Elizabeth Smart Foundation for the Runtastic HAUNTED Series. The ESF is determined to add spread awareness and motivate parents, law enforcement, and leaders worldwide to focus on children's safety. Find out more at Elizabeth Smart Foundation.
Date & Location
October 26, 2024
Finish: TBD
Start Time
Half: 8:00 am
5K: 8:30 am
Kid's Run: 11:00 am
Current Pricing
Half: $89.95
5K: $29.95
Kid's Run: $12.95
Next price increase:
27 days
Registration CLOSES the day of the race (space permitting) 30 minutes before the start of the race.
Please register online.
Friends & Family Discount
Get a $2.50 discount per registrant when you register 4 or more people. Must be in the same transaction. Does not increase for more than 4. Only $2.50 each.
Expo & Packet Pick Up
Where: TBD
When: Friday, October 25th, 11 a.m. to 7 p.m.
Please pick up your packet, bib number, shirt, and race swag at the expo/packet pickup the day before the race. You must have a photo ID to pick up your packet. You may pick up someone else's packet if you have a copy of their photo ID. Morning bib pickup will be $15
You can pick up your packet on race day at the Blue Runtastic Info tent for $15.00
Parking: TBD
Half Marathon Bus Loading: Starts at 5:30 a.m to 6:45 a.m. You must be to bus loading by 6:30 a.m. to guarantee transportation to the start. All half marathon runners must ride the buses to the starting area. Your bib is required to get on a bus. If you miss the bus you forfeit your registration and ability to run the race.  We want you to enjoy the race, so please be prompt. 
The are seven aid stations throughout the course:
Start
Aid Station 1 @ mile 3.5
Aid Station 2 @ mile 5.0
Aid Station 3 @ mile 6.8
Aid Station 4 @ mile 9.0
Aid Station 5 @ mile 11.25/ 5K mile 1.2
Finish
Water, Powerade, vaseline, porta-potties and a first aid kit will be available at each station. Look for Powerade on the first table and water on the second. Energy Gels will be available at the half marathon start and mile 6.
The Start of the Half Marathon is near the top of South Fork Road (Provo Canyon).
5K start is near the finish line.
Kids start is near the finish line
Pumpkin Starting Arch*
Music*
Costume Contest*
Drop Bag Trailer*
Porta-Potties*
Water
Energy Gels*
Fire Pits*
Hot Chocolate and Coffee*
*Only Available at the Half Marathon Start
BAG DROP
A bag drop is provided at the half marathon start lines. Please use the bag you receive at packet pickup to put any items that you have at the start and won't be running with. Using the zip tie provided in your bag, attach the tear-off tag on your bib to the bag. Bags will be transported down to the finish line, 15 minutes before the start of the race. You can retrieve it after you finish.
Runtastic is not liable for the loss or damage of any belongings that are put in the Drop Bag, left along a course or at an Aid Station. There is inherent risk to using the Drop Bag service so please only put items in the bag or leave items at an Aid Station that do not have personal, essential or great value.
If you lose an item at the race, please visit the Blue Runtastic Information Tent during the event to see if it has been turned in.
START: Bags dropped at the start line in the bag trailer/vehicle will be taken to the Finish Bag Pick-Up Corral.
COURSE: Bags and clothing left along the course will be picked up by the clean-up crew and thrown away or donated.
AID STATION: Bags and clothing left at an Aid Station Clothing Drop will be taken to the Finish  Bag Pick-Up Corral but may not arrive until near the end of the event.
As a courtesy service, all Clothing and Bags that are not picked up at the Finish Bag Pick-up Corral will be taken to Runtastic's main office at 50 North Center St. American Fork, UT 84003.
Clothing and bags can be picked up from that  location Tuesday, Wednesday, or Thursday from 9:00 a.m. to 3:00 p.m. for the two consecutive weeks following the event. Participants are welcome to come look through the clothing during those times. Runtastic hopes that participants can recover any lost items but does not have the resources to look for items lost.
Please contact us at [email protected] Lost items not claimed after two week will be donated to Deseret Industries as a charitable donation.
PHOTOS
Look for photographers at the start line, along the course, finish line, photo backdrops in the runner's corral, and awards stage. We are providing your social media pictures for free.
Social Media size photo download: FREE
MASSAGE & CHIRO
A complimentary post-race sports massage will be available from 9:00 a.m. to 11:00am on a first come first serve basis in the finish area. Massages are provided by licensed massage therapists.
TIMING & BIBS
Haunted Half Marathon, 5K and kids race will be professionally timed. The chips will be attached to the back of your bib number. Please don't wrinkle or stuff the bib in your pocket.
The first 3 places, male and female, will be determined by gun time (regular timing). All other awards will be determined by using Chip Time.
Gun Time is the time elapsed from the sound of the gun to the finish line.
Chip Time is the real time from when the runner crosses the starting line to crossing the finish line.
Results are available in the following ways:
On Screen at the Results Trailer
Personal Printed Result at the Results Trailer
Online at Results
Note: If you alter or damage your chip, your time may not be read correctly. Wear your bib on the outermost layer of clothing.
Food
Water & Powerade
Music
Awards
Sponsor Swag
Photography
Porta-Potties
Bag Drop
Awesome Finisher Medals
Face in Hole Cartoon Signs
OVERALL
The top three finishers, male and female of the Half Marathon and 5K will receive a place medal and free entry into the 2023 Haunted Half – Provo race in their respective categories.
AGE GROUP
Age group Medals will be given to the top three, male and female, of the Half Marathon and 5K.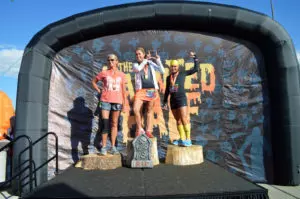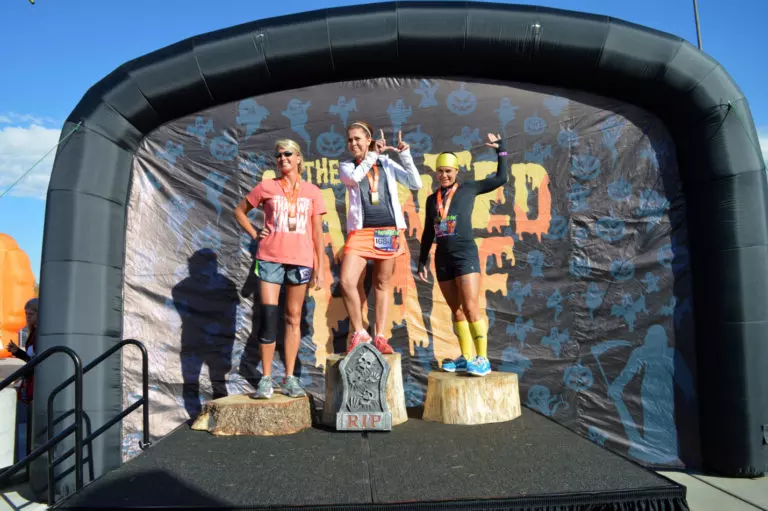 Award Ceremonies
5k Overall: 9:15 a.m.
5K Age Group: 9:20 a.m.
Half Marathon Overall: 10:00 a.m.
Half Marathon Age Group: 10:15 a.m.
Kid's Run Overall: 11:15 a.m.